So far we've had a great fishing season and it's only going to get better. With some challenges naturally, we're moving into the High Season for fishing in Puerto Vallarta.

Striped Marlin Disappear, Football Yellowfin Tuna, Sailfish and Killer Whales
Written by: Stan Gabruk owner of Master Baiter´s Sportfishing & Tackle

The more things change, the more they stay the same. We've seen some small changes this week In our world famous fishing grounds of Puerto Vallarta. Water temperatures are still a steady 85 with bait and water conditions just this side of perfect. Blue water, Sailfish, Marlin and Yellowfin Tuna are here for the taking. Dorado are still small, but we won't complain. The whole area from the beaches to Corbetena are full of action as we continue deeper into High Season for fishing in Puerto Vallarta.

Once again this week we're seeing Yellowfin tuna in the 50 to 100 lb range, a touch smaller this week but still perfect for the fisherman looking for action but not wanting a two hour fight. Sailfish are also picking up in numbers from El Morro to Corbetena. With plenty of Blue Runners, Green Runners, Caballitos, Sardines, Bullet bonito and Skipjack tuna the fishing is wide open right now. Striped Marlin have disappeared and most likely on their way to Cabo. We'll see them on the flip side come mid-January. If you're serious about catching fish and willing to put the time and distance in Corbetena is perfect and right on time according to our yearly expectations. Even though it's the end of July and beginning of August, the fishing is improving daily.

As mentioned earlier the area from El Morro to Corbetena is filling in nicely with more Sailfish by the day. One interesting development is Wahoo have been boated off El Morro as well. Wahoo live this water temperature and they're fond of the El Morro area. Wahoo is not a school species and they're mostly a lucky "Hookup". Where there's a few, there are always more. At Punta Mita we have a nice mature Trash Line which of course means Dorado. Find any floating debris and you'll most likely find 15 lb Dorado. Sailfish are still off the point with the possibility of Rooster fish off the sandy beaches of Sayulita. Rooster fish have been in the 15 lb range so throw them back to fight another day. Eight hour fishing trips are fun with the possibility of Blue Marlin at 300 to 500 lbs ten miles off the point on a heading of 300.

Inside the bay we've seen a bit of a slowdown with a pod of Killer Whales causing havoc. When the Killer whales or Orcas show up, everything is the water is food. This included Jack Crevalls, Turtles, and any other swimming species. Naturally this scares several species out of the bay but that's not to say the fishing is bad. For now we're still lucky enough see Jack Crevalls near the river mouths. The trash lines have been forming nicely as the seasonal rains are kicking in a bit. So Dorado in the 5 lb to 10 lb range are plentiful but babies. However baby Dorado like this are a great bait fish, so sailfish have been drawn into the bay. If you're around la Cruz Marina or a few miles off Los Arcos Sailfish are skipping across the surface chasing bait. Smaller Yellowfin Tuna in the 20 top 35 lb range off Yelapa, but there are tricks to this, chum with live bait, draw them up, then let the action begin. So with the Orcas the fish are spread out so be ready to move around to where they're "not".

With water temperatures a steady 85 degrees, massive amounts of bait everywhere, and plenty of fish you can't go wrong with a six hour bay trip. With the rains there could be some dirty water around the shoreline and beachs, but normally this is only a few feet thick so don't freak. The bite is still at the mid-day mark. If heading out for a longer duration trip, it wouldn't hurt to leave a little later in the morning and feel more comfortable about being able to see the obstacles.

Until next week, don't forget to kiss your fish!
I got into selling security cameras in Mexico some time back by request of my clients.
I was telling a friend about a group of students from the Scripts Institute, students from the world famous College of Oceanography in San Diego.
I have never been an avid birdwatcher; I have always considered myself a rockhound and am usually looking down. But since my family moved to a home in the hills above Puerto Vallarta, I can hardly not notice the beautiful and interesting array of tropical birds right in my own backyard!
Tourists and locals continue to enjoy the beaches of Puerto Vallarta, which already have places where the rules for healthy coexistence before COVID-19 are published, both in Spanish and English.
Starting next Saturday, surveillance in Marina Vallarta will be strengthened and the police presence at the accesses to the neighborhood will be reinforced, and as an additional security measure from eleven at night until six in the morning,
*The same was done at all points where the sanitary filters are in Jalisco. The objective is to continue with the protocols established in the state's COVID-19 plan to prevent the spread of the Coronavirus. In total there are 9 filters installed in the state, 4 of them in the borders with Michoacán, Guanajuato, Colima and Nayarit.
Official Statement- In the preamble to the entry into Phase 0 of the Jalisco Plan for Economic Reactivation, activity was reinforced in the sanitary filters installed in different highway sections of the entity, three of them at the entrances to the Guadalajara Metropolitan Area.
The objective is to continue with the protocols established in the Jalisco COVID-19 Plan to safeguard the health of Jalisco residents and thus prevent the spread of the Coronavirus in the State.
In each of the sanitary filters, there is the presence of operating personnel from different levels of government; they make a random stop of vehicles, which will allow timely action in the event of detecting people with respiratory symptoms or discomfort.
Personnel from the Ministry of Health carry out the review in the sanitary filters, body temperature is taken from drivers and passengers and a questionnaire is applied to them; If they have symptoms they will be recommended to return home and call the Coronavirus COVID-19 3338233220 hotline, where patients will be provided with a follow-up.
Filters are installed at the following points
-Highway to Morelia (Santa Cruz de las Flores)
-Highway to Chapala (Ixtlahuacán de los Membrillos)
-Highway to Nogales (Venta del Astillero)
-Entrance to the municipality of Tapalpa
-Entrance to the municipality of Mazamitla
Additionally, the operation of the four interstate filters located on the borders with Michoacán, Guanajuato, Colima and
Nayarit are maintained, which are found at the following checkpoints:
-Degollado-La Piedad Highway (On the border between Jalisco and Michoacán)
-Caseta de Leon-Lagos de Moreno highway toll both (On the border between Jalisco and Guanajuato)
-San Marcos Toll Booth on the highway to Manzanillo (On the border between Jalisco and Colima)
-Las Palmas-Puerto Vallarta Highway (In the Jalisco-Nayarit direction)
The participating agencies in these devices are: the Ministry of Security, the Ministry of Health, the Ministry of Agriculture and Rural Development, the police stations of the municipalities involved, the Jalisco State Civil Protection and Fire Department, as well as the Red Cross.
The best restaurants of Puerto Vallarta and Riviera Nayarit participate.
Especially on the Malecón and the Romantic Zone. This weekend after the opening of the bars and clubs in Puerto Vallarta, a great number of tourists were registered on the Malecón and the Romantic Zone.
The Magic Market and Festival is a farmers market with varied foods, crafts, jewelry, clothing, and entertainment.
Do you like sushi? Do you like cake? Maybe you should try some delightful Sushi Cakes!
Do you like Indian food? So do we! Come find some fantastic authentic Indian food at The Magic Market on Fridays!
A week ago when I visited the Magic Market I talked to many people and tasted yummy food and sweets.
As an American, we develop our thought patterns and ideas through our families aka culture.
Puerto Vallarta is known for it's long list of many charming barrios and at the top of the list is Barrio 5 De Diciembre. A bustling, festive area which is nestled between the beach and the hills, just south of the Hotel Zone. As in most neighborhoods around the city, it's steep, narrow, cobblestone streets are lined with taquerias, farmacias, papelerias, banks, souvenir shops and many other types of businesses and restaurants.
If you have not been to Magic Market yet, you should come check it out.
In Mexico in general, fashion is relaxed and has a very characteristic style, and even more so in this Mexican beach city, we are privileged by our climate and if I have to define the fashion style from Puerto Vallarta, it could be said that in general it is bohemian and Hippie Chic, on the streets it is common to see women wearing cool sandals, shorts, skirts, tops in vibrant colors and flowing dresses in light tones.
Elements of the federal forces make constant surveillance rounds through the streets and avenues of the municipality, after they have been seen in convoy through different zones as part of the preventive actions they carry out in Puerto Vallarta, which is kept safe for tourists and its inhabitants.
One of the interesting things about living in Puerto Vallarta is we have this big, beautiful bay we see, play on, swim in and enjoy. I realized that I knew next to nothing about the Whales we get in the bay. So, I decided to write this to my fellow "Locals" that may be interested …
Starting with Corbetena, it's a hair pulling frustration. Some beginning sentence, but the simple fact we have beautiful High visibility blue water and the fish are jumping. Curious enough the surface baits have disappeared for the most part.
One thing about living and fishing in Puerto Vallarta is you're a slave to the weather. Hurricanes passing, high pressure zones, dirty water and strong currents. We have to deal with these situations and more. Sometimes things come up short for fishing. But we're past that now and after two weeks we have fish at our world famous fishing grounds!
You know it never fails, we start seeing some great fishing which only promises to improve then "WHAM" something happens and machine stops. By that I mean we've seen strong currents and heavy rain.
It's been a real rollercoaster week at or world famous fishing grounds. We've seen no less than three Hurricanes in ten days.
During this time of the COVID-19 pandemic, many places here in Puerto Vallarta have closed or reduced their hours. This has disappointed many people because they couldn't go to the beach, river, or their favorite restaurant. And I was sad, too, having to stay home and miss out on all the great places to go in the Vallarta area. But some of these places have opened back up, and I was so happy to see that the Zoologico de Vallarta located near the town of Mismaloya has reopened.
I hadn't gone in a long time, and I have been wanting to go see what's new at the zoo. It is about a 45 minute beautifully scenic drive along the coast to get there, passing some long sandy beaches and some places where the ocean meets the cliffs. When you get to the Barcelo Resort, which is on the right, go up a road directly on the left and follow it up through the town of Mismaloya and beyond, and you will find the zoo in just a few short minutes to the left. Parking is free and plentiful, and if you get there early you might find a shady spot.
The entrance is a snack and gift shop, where you can refresh and munch from your drive as you choose your zoo package. They are accepting one group at a time, and you will have to go through their sanitation process as they are being extra careful considering the health of their animals. Basic admission is under 300 pesos, or you can purchase a package that includes a session with baby animals for an extra fee. You might get to pet a baby lion, tiger, or jaguar, a monkey or a lemur. Make sure to purchase at least one bag of vegetables and pellets to feed the animals as you wander through the zoo, they are only 50 pesos and well worth it.
As you step outside there is a huge spouting fountain, but don't put your hand in it, it's full of snapping turtles.
The path leads uphill and while doable, to be fair, it is a little steep for wheelchairs. Just know it ahead of time and bring a muscular pusher. You will pass a baboon and some crocodiles before you come to the bottom of the big cat enclosures. They are quite large enclosures but usually you will be able to see African lions and black and patterned jaguars. Next is a big pond with ducks, fishes, turtles, and flamingos, surrounding an island of spider monkeys. On the other side of the path are some curious emus, large tortoises, and huge antelopes. Up ahead are whitetail deer, a hungry hippo, a group of zebras, a bunch of bunnies, tropical birds and black swans.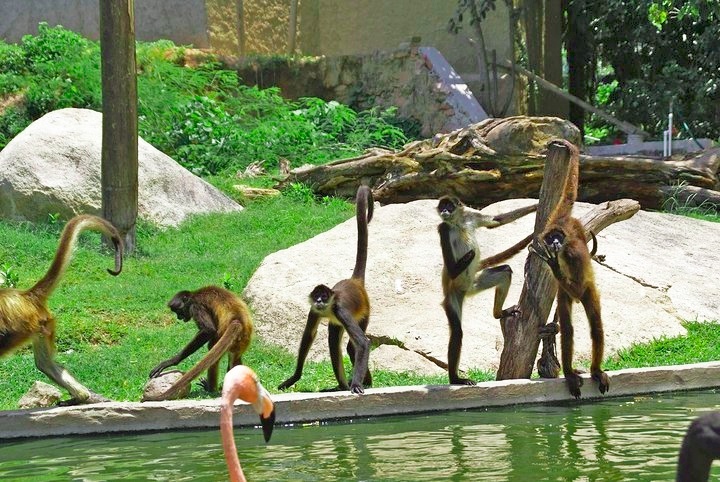 Then you come to the Canadian wolf enclosure and a North American mountain lion. Pass by some peacocks and ponies to see the giraffe. If you offer him a carrot he will extend his long black tongue and delicately grasp the carrot from your hand. Next you will come to some smaller baboons and a few varied birds. Just up the hill are parrots and a camel. There will also be a giant elephant with her baby! But don't be fooled, because they are only statues professionally painted. Afterwards you'll walk down a small hill and enter an airconditioned large room. Here you are able to buy more animal food, drinks, and snacks. They even have ice cream, perfect for a hot day. Sometimes they serve homemade food. From here you can look down into the big cat enclosures that you saw earlier as you came up.
When you're done snacking you'll come to some tropical birds, large cats, more monkeys, some rams, and a couple of black bears. There is a male and female bear, and they are both gorgeous, but the female can be aggressive. The male, on the other hand, is very friendly. After passing the bears there is a long row of enclosures with a glass panel so you can look in. Some of the animals inside these habitats include birds of prey such as hawks, eagles, and owls, curious raccoons, large snakes, and a bug-eyed kinkajou. Then you will take a twisted path down to where you started. But before you go down, you will see many beautiful deer prancing, sleeping, or eating below you. Then further down you'll see a herd of llamas, who will stretch their long necks out of their enclosure and greet you or sniff your bag of food. After the llamas you'll see some boars with enormous tusks and chunky pigs. This is a good place to throw in the rest of your animal food, if you have any left. If you bought the package where you can pet baby animals, you'll be able to pet adorable baby cats and/or monkeys and lemurs and take pictures in front of a zoo logo painted on the wall.
Overall visiting the Zoologico de Vallarta is a charming experience that I would recommend to anyone with the time to visit or who is simply searching for a fun day activity to spend with friends and family.
Boy, I'll tell ya, I think we got hit with just about every type of conditions you can get hit with last week. Hurricane passing was a non-event for Puerto Vallarta, but for a few days there the fishing got "less than favorable".
What could be better than an oceanfront penthouse suite with your own private pool?
The BIG BUS is looking for a home. This entire huge canvas is covered with Puerto Vallarta Unibus bus tickets. Collected and donated by Vallartans and Visitors. Now it's time to give back to the community. Let's help the Vallarta Food Bank.
The double edge sword of the high dollar and how it affects your property in Mexico
With large numbers of Puerto Vallarta residents being out of work and income, putting the next meal on the table has become a daily concern for many.
Due to COVID-19 the deadline for paying your Mexican property taxes, called Predial, has been extended to July 31, 2020. So, you have until the end of this week to get them paid.
Many people may be feeling uneasy about traveling these days, and we need to be able to rely on our local businesses to make our guests feel safe.
The art and science of "Massage" have been in existence for more than a thousand years. The Chinese believe massages are beneficial to increased circulation and physical benefits. When we have physical or emotional pain or feel stress in our bodies, it`s normal to get a massage as an alternative therapy. Inexplicably we feel an improvement, healing and a feeling of well-being in our bodies.
In our bodies we have beneficial energy centers known as chakras. Chakras represent the union of our body and consciousness. This allows our physical, mental, emotional and our spiritual bodies come together.
Meditation is an increasingly widespread practice in our society, which allows to dominate our mind and at the same time reach a state of consciousness. In this times that we have passed through different emotions it is very important to reconnect with ourselves and be fully aware of our emotional wellbeing.
Everything starts and ends with your state of mind and how you process your daily information. Meditation is not difficult to learn and is a rather simple thing to do. Meditation is a mental and spiritual activity we can practice every day and by doing so it will contribute greatly to your wellbeing.
Here in Puerto Vallarta, we are able to get more organic foods than other cities around Mexico, but we are still exposed to chemicals and pollution. Nowadays everything has a level of contamination, some products more than others. For example, the fish we get from the sea have been exposed to contamination from boats and other sea waste.
What is the best way to deal with stress relative to our wellness and health? First we have to understand that "Stress" is all in our mind.
I got into selling security cameras in Mexico some time back by request of my clients.
As an American, we develop our thought patterns and ideas through our families aka culture.
Starting with Corbetena, it's a hair pulling frustration. Some beginning sentence, but the simple fact we have beautiful High visibility blue water and the fish are jumping. Curious enough the surface baits have disappeared for the most part.
The art and science of "Massage" have been in existence for more than a thousand years. The Chinese believe massages are beneficial to increased circulation and physical benefits. When we have physical or emotional pain or feel stress in our bodies, it`s normal to get a massage as an alternative therapy. Inexplicably we feel an improvement, healing and a feeling of well-being in our bodies.
The Circo de los Niños de San Pancho a unique project created in 2011 by Gilles Ste-Croix, one of the founders of the Cirque du Soleil returns to the Riviera Nayarit with a brand new show: Fausto.